First-Year Counselors
The First-Year Counselor Program was established in 1938 and has been ever since an intrinsic and essential component of Yale's advising system for the first-year students. The program has evolved in many ways over the years, but the general purpose of the program has remained the same: to help ease the transition of incoming first-years to the academic, social, and cultural life of Yale College.
Silliman
2021-2022 First-Year Counselors:
Riley Bird
Hi all! My name is Riley and I'm majoring in Psychology. I'm originally from Montana. On campus, I am currently serving as the VP of New Member Education and Experience for my sorority, Alpha Phi. I am also apart of a wellness group called CHAARG which is a newer group on campus. In the past, I was a member of the Yale Cheerleading Team. In my free time, I enjoy being outdoors and staying active. This includes hiking, rafting, working out, and hanging out with friends. I am so excited to meet my frosh and welcome you all into the amazing Silliman community.
Renee Dauerman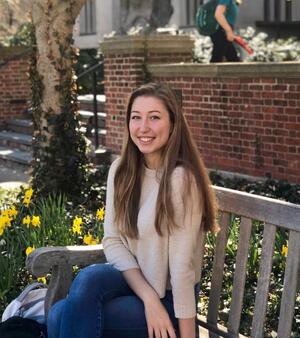 Renee (she/her) is an Economics major from the small town of Shelburne, Vermont. During her time at Yale, she has worked as a research assistant on an economics project at the Yale School of Management, and has enjoyed time with the Silliman Activities and Administrative Council, the Reform Chavurah at the Slifka Center for Jewish Life, and various political organizations. Renee loves baking, hiking, playing tennis, petting dogs, and spending time in the Silliman courtyard. She is so excited to meet new Sillimanders and introduce them to the best residential college!
Aria Falcone (Head FroCo)
Aria (she/her/hers) is a Political Science major from Ann Arbor, Michigan. On campus, she sings with the Yale Glee Club and is on the organizing committee of Yale Young Democratic Socialists of America (YDSA).  She also sits on YDSA's National Labor Committee. Throughout her time at Yale, she's been an assistant for Manuscripts and Archives, worked the front desk of the Film Study Center, and has been a Silliman College Aide. During her free time, Aria loves going for long walks, drinking tea, learning French, watching movies with friends, collecting office supplies, and eating microwave popcorn. Aria is SO EXCITED to meet the Class of 2025 Sillimanders. She can't wait to make them all feel at home!!!
Tyler Jager                                                        

Tyler is a proud Sillimander, studying for a BA/MA degree in Political Science, and was born and raised in the small town of Manchester, Vermont. A member of the Multidisciplinary Academic Program in Human Rights, his work mostly focuses on migration and refugee protection, political violence, and humanitarian aid. On campus, Tyler was editor-in-chief of the Yale Review of International Studies, works as an Academic Strategies Mentor for all students at the Poorvu Center, and gives tours at the Yale Art Gallery. He loves engaging with the broader New Haven community, whether it's volunteering with Integrated Refugee and Immigrant Services or leading the YHHAP Fast last year. This year, after a gap semester, he hopes to pull off a bucket list of recipes in the Sillikitchen and is always down to find new running routes in New Haven. He cannot! wait!! to welcome the class of 2025 to the Elm City – and to Yale's greatest residential college!
Charlie Loitman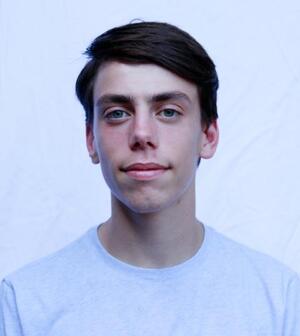 Charlie (He/Him/His) is a Mechanical Engineering and Economics double major from St. Louis, Missouri. He is a member of the YES and YUDI, a researcher for the Qiu Lab, and an event aide. Outside of school, he enjoys baking, ceramics, running, and occasionally participating in dance groups. He took Spring 2021 off of school to work at a hedge fund but can't wait to return and capture the Tyng Cup. He looks forward to meeting his frosh and cannot wait to watch them fall in love with Yale and objectively the best residential college: Silliman.
George Mourgkos
George (He/Him/His) is a Molecular, Cellular, and Developmental Biology major and premed student, hailing from the beautiful and sunny Thessaloniki, Greece. During his time at Yale, he has worked in neuroscience labs at the Yale School of Medicine, and conducted global health research and implementation work! Outside of academics, he serves as one of the Co-Presidents for the International Students' Organization, is organizing a Model UN conference through the Yale International Relations Association, works as a campus tour guide, and volunteers at Yale New Haven Hospital. In his free time, he loves cooking brunch with friends, trying out New Haven's best coffee shops, rewatching old Greek TV shows for the thousandth time, and debating his suitemates on the superiority of Greek food! He is extremely excited to welcome the new class of Sillimanders to the best residential college at Yale!
Edwin Ruiz Fuentes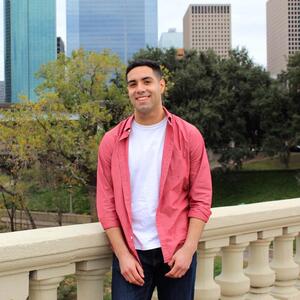 Edwin (he/him/his) is a Molecular, Cellular, and Developmental Biology major from Houston, Texas. His interest in medicine and public health has led him to pursue the BA-BS/MPH 5-year program at the Yale School of Public Health. During his time at Yale, he has been a peer liaison for La Casa Cultural, a peer mentor for the STARS program, and a science tour guide for the Undergraduate Admissions Office. When he's not conducting COVID-19 research in an immunobiology lab or volunteering with the local community, you can find him grabbing boba with friends, trying new restaurants, pondering life, feeding squirrels, or just hanging out in the Silliman courtyard. He is thrilled to welcome new Sillimanders to the absolutely best residential college!
Katie Schlick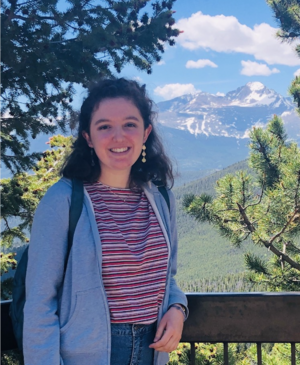 Katie (she/her) is an Environmental Studies major from Wallingford, CT. She has led the Yale Student Environmental Coalition (YSEC) and the Yale College Council (YCC) Sustainability Team, and she loves volunteering for Camp Kesem, an organization for kids whose parents have cancer. In Silliman, Katie worked as a HoC Aide (where she learned her top-notch Canva skills) and a Sustainability Liaison to the Office of Sustainability (keeping up Silliman's reputation as the most sustainable residential college!). Katie loves cooking, gardening, puzzles, long walks, and smoothies, and she cannot wait to meet her frosh and welcome them to Silliman!
Marcus Shallow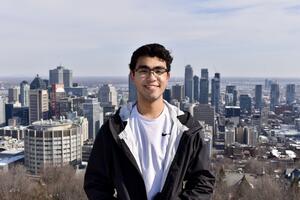 Marcus (he/him/his) is a Biology (MCDB) and Global Health studies major hailing from the small town of Elton, Louisiana. On campus, Marcus conducts research in the Chun Lab at the Yale Cardiovascular Research Center studying long term changes in the immune system following COVID-19 infection and works as an Academic Strategies Peer mentor with the Poorvu Center. During his time at Yale, he has also been involved with Yale Pathways to Science, Yale Genetics Club, and the Yale Policy Institute—a student-led public policy research group. In his free time, he enjoys hiking with friends, visiting coffee shops, and trying out all the food trucks near Science Hill and YSM. He is super excited to get to know his frosh and meet all of the newest Sillimanders!
Jackie Zhang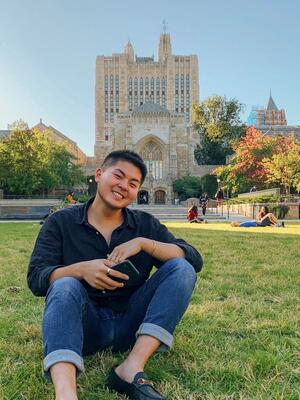 Jackie (he/him/his) is a Psychology major and Education Studies Scholar from Bergen County, New Jersey. He is extremely passionate about community building and community care, skin care, interior design, gratitude, discovering the best food in New Haven, and living his best life. Throughout his time at Yale, Jackie has served as a Project Coordinator for the Communication and Consent Educators (CCE) Program, an editor for the Yale Layer, a student manager for the Silliman Buttery and Silliman Dining Hall, and a mentor to New Haven middle schoolers at Wexler-Grant Community School. He also studied abroad in Beijing the summer after his sophomore year through the Richard U. Light Fellowship, and took a year off school in between his junior and senior years to help out at his parents' Chinese take-out restaurant. Jackie speaking here: I can't wait to meet all you new Sillimanders and to learn and grow alongside you. I'm so grateful to be able to help welcome you to the objectively BEST residential college!