First-Year Counselors
The First-Year Counselor Program was established in 1938 and has been ever since an intrinsic and essential component of Yale's advising system for the first-year students. The program has evolved in many ways over the years, but the general purpose of the program has remained the same: to help ease the transition of incoming first-years to the academic, social, and cultural life of Yale College.
Silliman
2022-2023 First-Year Counselors:
Sam Adrianzen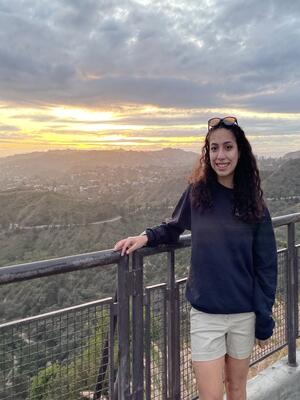 Sam Adrianzen, born and raised in New York City, is a senior at Yale studying Economics with certificates in Data Science and Education. Sam has previously worked with Integrated Refugee and Immigrant Services, the Pediatrics clinic, and Unilever as a team lead and member of Design for America. In terms of leadership, she also served as DFA's treasurer, co-president, and was an S&DS ULA for a semester. Sam also enjoys helping students apply and adjust to college, serving as an Advising Fellow in Matriculate formerly and Y Tu Tambien currently. Additionally, as an Edward A. Bouchet Research Fellow, she hopes to use the skills she learned in her Yale career to create a holistic solution addressing education issues in her hometown. In her free time, Sam enjoys studying Chinese, memorizing Lin Manuel Miranda's discography, and running 10Ks around the city. She's super excited to welcome all the first-years to Silliman, the best residential college! 
Suzanne Castillo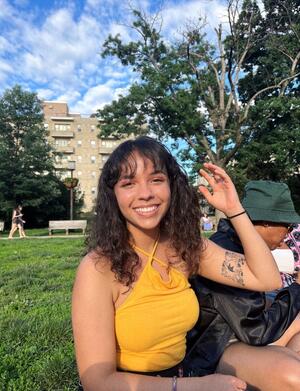 Suzanne Castillo (she/her) is an Ethics, Politics & Economics major from Sarasota, Florida. She's a proud first-gen, low-income college student with a passion for civil rights work and normative political theory. During her four years at Yale (she took a gap year to work on police reform in Chicago), Suzanne has been heavily engaged with YHHAP (the Yale Hunger and Homelessness Action Project), all things Dwight Hall (the social justice/service headquarters of campus), YFAM (Yale FGLI Advocacy Movement), the Yale College Writing Center (a great resource for 1-1 tutoring for all things writing!), and has served as a FOCUS leader two times. On a typical day, you can find Suzanne enjoying a long walk downtown, re-learning how to ride a unicycle, (badly) dancing to Doja Cat, baking something at the Office for LGBTQ resources, geeking about Supreme Court opinions, and serving coffee as a barista at the Silliman Acorn. Suzanne loves New Haven and can't wait to give a warm welcome to the Class of 2026 as they too learn to call the Elm City (and Silliman) home!
Henri Cornec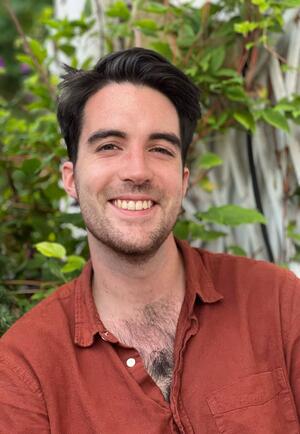 Hey everyone and welcome to Silliman! My name is Henri (he/him/his). I am German-French and I was born in Frankfurt. I am majoring in Economics, and I am interested in Development and Environmental Economics. Outside of classes, I am involved in different hospitality offerings, such as working as a barista at Silliman's very own Acorn Cafe. I love cooking, early-morning yoga and exploring New Haven and I cannot wait for all of you to get to know the city, Yale's nicest residential College, Silliman, and of course each other!
Marvin Durogene                                                        

Marvin (he/him/his) is a Biomedical Engineering major from Neptune, New Jersey. He is passionate about bridging the sciences and arts, industry-based engineering,  advocacy for First-Generation Low-Income students (FGLI), and finding new food spots in New Haven. During his time at Yale, Marvin has worked as a Peer Liaison (PL) for the African American Cultural Center, as well as being active in the Yale Black Men's Union, Black Church at Yale, Yale Gospel Choir, and the Yale Chapter of the National Society of Black Engineers. Marvin has also researched under the STARS Summer program doing physics research with the Baker Group. In his free time, Marvin loves running, playing soccer, and exploring the Elm City. He is excited to welcome the newest group of Sillimanders to Yale!
Marsh Hlavka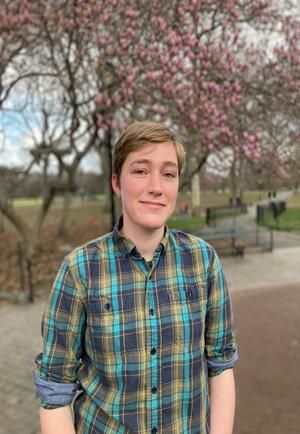 Marsh Hlavka (they/them) is an Ecology & Evolutionary Biology major from Minneapolis, Minnesota. Their research at Yale School of the Environment focuses on birds in regenerating forests. They've spent the past two summers doing research fieldwork at Yale-Myers Forest in the Quiet Corner of Connecticut. During the school year, they work in the Vertebrate Zoology collection at Yale Peabody Museum, preparing museum specimens and giving tours. They have also been involved in Yale Club Running, Yale Undergraduate Tabletop Association, FOOT, and Trans@Yale. In their free time, Marsh loves hiking, playing D&D, and reading science fiction and fantasy. They are so excited to welcome the Class of 2026 to Silliman!!!
Kayla Hoovler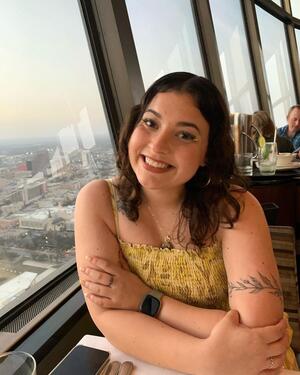 Kayla (she/her) is a Neuroscience major and premed student. She currently lives in Syracuse NY with her boyfriend and 2 beautiful cats, but has also called Texas, Washington, and Pennsylvania home. On campus, Kayla loves working as a Silliman event aide and conducting research in an amazing Multiple Sclerosis lab at the medical school. Kayla is also the Undergraduate Liaison for the Yale Patient Navigator program. Outside of school, Kayla loves all things outdoors, exercising, and cooking. She is obsessed with all types of music and could talk about it for literally hours. She is an avid coffee drinker and would love to concoct a specialty coffee for anyone who wants one. Kayla is so so excited to meet the class of 2026 and can't wait to introduce them to the BEST residential college at Yale!!!!
Neal Ma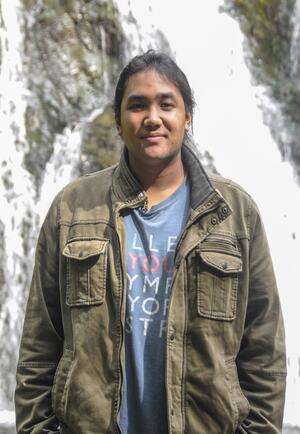 Welcome to Silliman! I'm Neal (he/him/his) and I'm originally from a small town outside of Seattle, Washington. I study Physics and Computer Science and am a part of the Energy Studies program. I love trees and rain and birds and generally just being out in the world! Around campus I play Ultimate Frisbee for Süperfly (Yale's Men's team), work on photography and graphics for Movement (a dance team), ULA for a CS class, and have worked in various Physics and Material Science labs. Beyond that, I'm passionate about photography and renewable energy. I can't wait to meet all of you this Fall and see you grow throughout the year! 
Jonathan Oates (Head FroCo) 
Welcome to Yale and welcome to the best college! We're so excited you're joining the Silli-fam. My name is Jonathan Oates (he/him/his), and I study Political Science with a focus on American government and political theory. I'm originally from Knoxville, Tennessee. At Yale, I'm a member of the Grand Strategy Program, where I study political communication and democracy reform. Additionally, I've served as a YCC senator and member of the executive board. Outside of school, I'm a member of the Institute for Responsible Citizenship, and I enjoy reading and binge-watching Succession (aka the best show on TV). Feel free to ask about these experiences or anything else Yale, political, etc.—we're here to help in any way we can. I can't wait to meet you all soon!
Abnner Olivares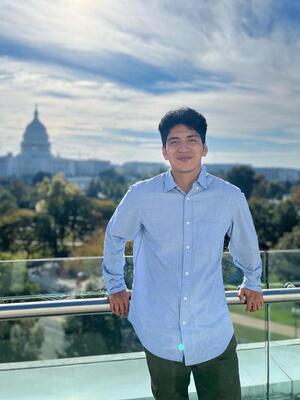 Abnner Olivares (he/him/his) is a Global Affairs Major from the Los Angeles neighborhood of Boyle Heights. He's a first-generation college student who comes to Yale from a low-income background. Abnner is deeply passionate about all things public service and civic engagement.  He's had several legislative experiences and work experiences in the non-profit sector.  On-campus, Abnner has been involved with YFAM (Yale First-Gen and/or Low-income Advocacy Movement), the Public Service and Law Track of Sube: Yale's Latinx Pre-Professional Student Association, and La Unidad Latina, a multicultural Greek organization whose philosophy is to support Latino leaders nationwide. In his free time, you can find Abnner hanging out in Silliman's Cafe: The Acorn, cooking with friends at La Casa Cultural, skateboarding around New Haven, filming whatever new video project, or going to the movies. He could not be more excited to welcome the Class of 2026 to campus. 
Mykah Puryear DeMeulenaere 
Hi everybody! My name is Mykah Puryear (she/her) and I'm from Worcester, Massachusetts. On campus, I am a psychology major and getting a certificate in education. Outside of class I'm involved in mental health advocacy work, I teach health classes in New Haven as a part of Community Health Educators, and I work for the Yale Alumni Association. I love to read, bake, and travel, and I'm also working towards getting my real estate license! I'm so excited to get to know all of you this year!