First-Year Counselors
The First-Year Counselor Program was established in 1938 and has been ever since an intrinsic and essential component of Yale's advising system for the first-year students. The program has evolved in many ways over the years, but the general purpose of the program has remained the same: to help ease the transition of incoming first-years to the academic, social, and cultural life of Yale College.
Silliman
2023-2024 First-Year Counselors:
Aster Aguilar (Head FroCo)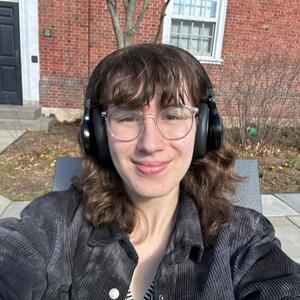 Aster (she/her) is a senior from Wilbraham, MA—which is unfortunately more similar to suburban Connecticut than Boston. She is majoring in Women's, Gender, and Sexuality Studies, with a focus in contemporary trans playwriting. Her debut play, TRANSUBSTANTIATION, premiered last spring as part of the Yale Playwright's Festival. Last year, Aster ran transgender/non-binary community spaces—such as Beyond the Binary and Trunch—as a student assistant for the Office of LGBTQ+ Resources. She also helped organize initiatives focused on transgender healthcare equity at Yale with the Reproductive Justice Coalition and Gender Resources at Yale Committee. Throughout her time at Yale, she has also been involved with Community Health Educators and Broad Recognition. Rather than using summer as a break (as God intended), Aster served as a Solomon Fellow for LGBT Studies and a Columbia Public Health Scholar. Despite her dwindling free time, she tries to be a regular at $7 Tuesdays at Bowtie; otherwise, you can catch her watching clips of "Rupaul's Drag Race" on Twitter, crying to sad indie girl music, or thrifting more sweaters to stuff under her bed.
Rachel Brown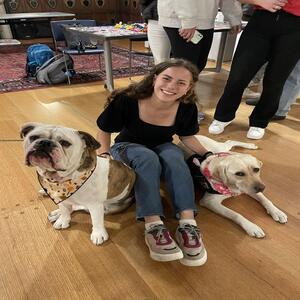 Rachel (she/her) was born and raised in Los Angeles, is a History and Religious Studies major. During her time at Yale, she has been involved in legal aid, athletics, and comedy. She has enjoyed her time on the Yale Legal Aid Association, Yale Undergraduate Prison Project, The Odd Ducks (the best [and only] stand-up and sketch comedy group on campus), Yale Women's Athletic Network, and numerous other clubs. You will normally see her on campus in the Music Library, working on her fourth cup of coffee for the day. Finally, I will let you in on a little secret, she also performs as both the Yale and Silliman mascot. 
Ellie Burke
Ellie (she/her) is a History major on the Cultural History track originally from Kansas City, Missouri. She is passionate about studying historical thought and memory through contemporary art and culture. Throughout her time at Yale, Ellie has worked as a producer on student theater productions, served on the board of the Yale Dramatic Association, and sung in an a cappella group. She also works as a barista at the Silliman Acorn and has been a FOOT leader for the past two years. In her free time, she enjoys running, exploring Yale's art and theater scene, finding new restaurants in New Haven, and binge watching TV shows (her favorites include Parks & Rec and Psych). She is beyond excited to welcome the Class of 2027 to New Haven, Yale, and Silliman this fall!
Ethan Coyle                                                       

Ethan (he/him/his) is a Computer Science major from Andover, MA. I was originally in the class of 2023, but I took a gap year during the pandemic during which I worked in tech, read lots of books, tried out yoga and made my dog very happy with many walks. I have been a FOOT leader for the last three years during which I've gained lots of experience troubleshooting problems and taking care of group members. I love team sports and was an active member of Yale rugby until an injury sidelined me last year. I have lots of experience navigating the ups and downs of college life at Yale and I am here to help you. As a Silliman FroCo, I hope to welcome you to Yale and to the best community within Yale - Silliman!
Michael Lee
Michael (he/him/his) comes from the neighboring town of North Haven, Connecticut. He is a Physics major also pursuing a Certificate in Data Science. In Yale's STEM world, Michael does research in Prof. Devoret's quantum computing lab. He spent this past summer in Germany as a Tetelman Fellow, investigating phenomena of mesoscopic superconductors. Michael LOVES playing modern/pop culture music on the clarinet. On campus, he performs in the Yale Precision Marching Band and the Davenport Pops Orchestra, serving as the 2022-2023 co-president for the latter. In his busier time, one can find Michael in the SAAC room or The Acorn Café studying away to a playlist of Chick Corea or Studio Ghibli (happy to chat about both!). In his spare time, you can catch him editing videos on his laptop, playing frisbee with besties in the Sillicourtyard, or trying new recipes in a campus kitchen. As of Summer 2023, Michael is a novice with Asian rice desserts (favs are nian gao and bekomochi). His senior year goal is to perfect these special sweets at the mastery level. Michael is incredibly excited to welcome the Class of 2027 to Yale, to Greater New Haven, and most of all: to Silliman, the best residential college of them all!
Annie Lin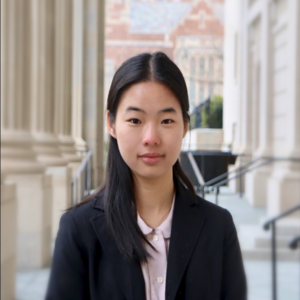 Annie (she/her) is a Yale senior double majoring in Economics and Electrical Engineering from Toronto, Canada. She is a proud member of the Yale Fencing team and participates in many pre-professional/finance clubs on campus. Annie was also a Tobin RA and an intern at the Tobin Center. In her free time, she likes to paint and make crafts. If you have any questions at all about navigating life as an international student, majoring in STEM, extracurriculars/research at Yale etc., please don't hesitate to reach out! 
Mira Raju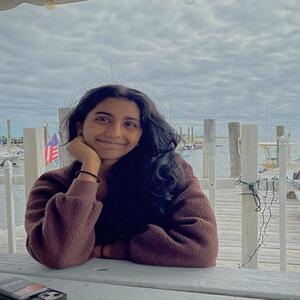 Mira (she/they) is a Philosophy major from Tucson, Arizona. Mira enjoys recording and editing podcasts at the WYBC Yale radio station, researching social interaction with the Crockett Lab, and interviewing patients at the Yale New Haven Hospital. Her hobbies include singing with the Yale Glee Club, going on runs, and collecting pretty stationery. Mira knows too much about Myers-Briggs personality typing even though she agrees, reluctantly, that it's probably a hoax. She thinks Yale's most underrated food is the apricot kolache, and her favorite time on campus is April, when the trees in New Haven suddenly burst into bloom. Mira is beyond excited to meet the class of 2027 and can't wait to introduce them to even more wonderful things about Yale!!
Will Salaverry 

Will (he/him/his) is a rising senior studying Latin American Studies and Spanish and a proud Sillimander. Hailing from the Bay Area, Will is in love with his native California and plans to return there after Yale to work as part of the global climate solution with a focus on environmental justice. When not studying; Will loves surfing, hiking, singing, playing guitar, writing, and hanging out with friends. At Yale Will has been incredibly involved with extracurricular singing, spending his first three years with the Yale Spizzwinks(?), one year with the Glee Club, and his last year traveling to 22 different countries as the business manager of the Yale Whiffenpoofs. Will has also adored connecting more deeply with his jewish faith through Yale's Slifka Center and rediscovering his family's Peruvian heritage through La Casa. Will is incredibly excited to take on the role of First-year counselor, he has spent the majority of time at Yale in mentorship positions in the disability community. Will is legally blind himself and has been an active member of the disability peer liaison and disability peer mentor teams. Will's 5 years at Yale (he promises he'll finish eventually) have taught him that no one goes through life alone and that goes double for college. Will looks forward to participating in building a strong community in Silliman and among the class of '27 full of love, support, and a few laughs along the way.
Madelyn Stewart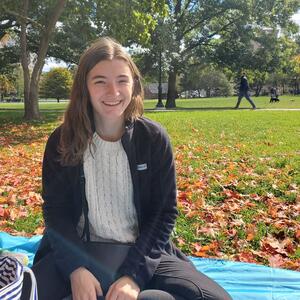 Madelyn (she/hers) is originally from North Carolina and is majoring in Mathematics and Earth & Planetary Sciences. She's spent the past two summers working on climate research, focusing on using a satellite to measure sea ice concentration and how climate change will affect extreme weather around healthcare facilities in the South Pacific. During her time at Yale, she has worked at the Chaplain's office, as a Silliman office aide, and as a Undergraduate Learning Assistant in the math department. She is also part of Dimensions and the Math Climate Committee, where she works on diversity and community in STEM. In her free time, Madelyn enjoys hiking, reading, and exploring New Haven. She's so excited to welcome you all to Silliman!
Kevin Wang
Kevin (he/him/his) is a Molecular Biophysics and Biochemistry major who is also pursuing a certificate in Classics. He is originally from Cincinnati, Ohio (but recently moved to Stamford, CT), and is considering a career in healthcare or scientific research. Outside of class he conducts microbiome research at the Crawford Lab, studying the chemistry and biological implications of bacterial metabolites. Around campus, he is involved in Yale EMS, the Yale Undergraduate Piano Collective, and Y-BioIncubate. In his free time, he enjoys playing tennis, reading, hiking, and listening to all kinds of music. Kevin also likes to binge watch TV shows and is always down to explore new restaurants in New Haven. He is excited to meet you all and looks forward to welcoming the class of 2027 to campus!