Silliflicks Movie Theater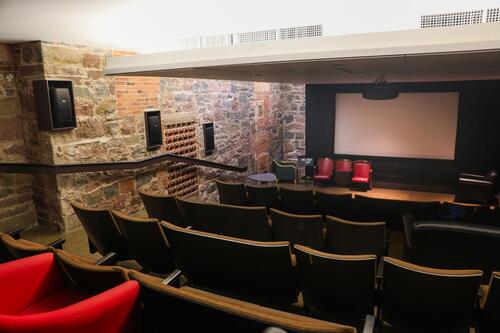 Silliflicks is Silliman's movie and television theater. Located below Entryways C and A, Silliflicks has a giant projection-screen television, a full array of cable channels, a DVD player, a VCR, and a collection of several hundred movies. Check out Silliman's DVD collection (PDF)! Silliflicks is available to all Silliman students.
How to Make a Reservation
To make a reservation, email smaide.yale@gmail.com. Make your subject line SILLIFLICKS RESERVATION.
Our reservation coordinator will email you back to confirm if that time is available, and if so, will input your request into our calendar.
Your coordinator will let you into the space and set up the viewing options for you.
Popcorn and movie appropriate food only (no wings, pizza, sauces, etc) 
Please make reservations 24 hours in advance.
The Silliman student who made the reservation should be the first person to enter the theater. He/she/they is also responsible for making sure that the entire group follows the rules and does not damage anything. To be considerate to the coordinators and anyone using the theater after you, please arrive on time!
Please check the calendar below to see if your time slot is open before you email.