Recording Studio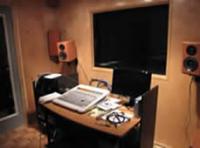 The Lumry-Wengerd Sound Studio, Silliman's state-of-the-art recording facility, is a self-supporting nonprofit business operated entirely by Silliman students.  It features an industry-standard Protools setup, an entirely enclosed room-in-room design, and tunable walls. 
It is the first studio of its kind in a college, and was designed and built by Silliman 2001 graduate Loren Wengerd.
The Lumry-Wengerd Studio Procedures:
The Lumry-Wengerd Studio is Silliman's student run recording studio.
Recording in the Lumry-Wengerd Studio is limited to Yale students and registered Yale groups.
Customers must complete and sign a Lumry-Wengerd Studio Terms and Conditions contract before recording.
HOW TO MAKE A RESERVATION
Email sillimansoundstudio@gmail.com with a brief description of the recording project, the date(s) and approximate recording time you would like to book.
A coordinator will email you back to confirm if that time is available.  In addition, the coordinator will schedule a preliminary appointment in advance of the recording session to discuss your project and provide you with the necessary paper work.
2017-2018 RECORDING STUDIO COORDINATORS