Recording Studio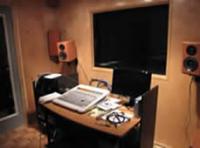 Welcome to the Lumry-Wengerd Studio at Silliman College.  Please read the following information carefully.
HOW TO MAKE A RESERVATION
Email smaide.yale@gmail.com.  Subject line should be RECORDING STUDIO RESERVATION.  Send a brief description of the recording project, the date(s) and approximate recording time you would like to book.  
A staff member will email you back to confirm if that time is available. 
Reservation Guidelines:
6 hours per day maximum
20 hours per week maximum
Cleanup time must be included in reservation time
One week cancellation notice is mandatory
Reservations cannot be made for a future semester (e.g. in Spring 2022, you cannot reserve for Fall 2022)
Only available to Yale students and affiliates
Cleaning and organizing the space at the end of your session is required.  Failure to do so can and will lead to a cancellation of the remainder of your reservations