Recording Studio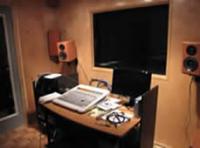 LUMRY-WENGERD STUDIO AT SILLIMAN COLLEGE
The Lumry-Wengerd Studio is Silliman's student run recording studio.
  1)    Recording in the Lumry-Wengerd Studio is limited to Yale      students and registered Yale groups.
  2)    Customers must complete and sign a Lumry-Wengerd Studio Terms and Conditions contract before recording.
HOW TO MAKE A RESERVATION
  1)    Email (​sillimansoundstudio@gmail.com ) with a brief description of the recording project, the date(s) and approximate recording time you would like to book.
  2)    A coordinator will email you back to confirm if that time is available.  In addition, the coordinator will schedule a preliminary appointment in advance of the recording session to discuss your project and provide you with the necessary paper work.
  2018-19 LUMRY-WENGERD STUDIO COORDINATORS
Seamus Joyce Johnson
Avery Gonzales
Avi Durling
Charles Romano
Fatima Abaroa
Hannah Smith
Matt Sutermeister
Emil Ernstorm
Kat Corfman
Kiddest Sinke
MAKE MUSIC