Resident Fellows
Ferentz Lafargue and Sophia Lafargue 
Ferentz Lafargue is Yale College's Associate Dean for Residential Life.  Dean Lafargue earned his Ph.D. in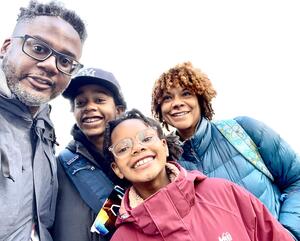 African American Studies here at Yale.  Sophia Lafargue is the Democratic Staff Director for the U.S. House of Representatives Committee on Foreign Affairs and splits her time between New Haven and Washington D.C.  Ms. Lafargue earned her BA in English Literature from Queens College, CUNY and her MA from Harvard University's Graduate School of Education.  Ferentz and Sophia's  daughters Teddy and Ella are entering seventh and fourth grades, respectively. You'll likely see Teddy and Ella zipping by on their way to swim, piano, basketball, or soccer practices.  The Lafargue's younger son, Harrison completed high school at Notre Dame High School in West Haven and is now a Communication Major entering his junior year at Morehouse College in Atlanta.  Their eldest son Ian resides in Bowie, Maryland and is the Director of Polling and Analytics at The Hub Project where he oversees polling operations for the Hub and Navigator Research. 
Kassandra Haro
Kassandra Haro
is the Program Administrator and caretaker of Handsome Dan XIX, also known as Kingman.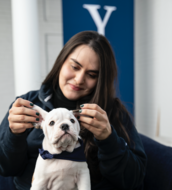 She graduated from Yale's Berkeley College in 2018 with a degree in Political Science. As an undergrad she was a campus tour guide, an admissions office senior presenter, an NROTC midshipman, and worked at the Yale Interdisciplinary Center for Bioethics. She has worked at the Yale Visitor Center in a professional capacity since 2018 as the center's tour coordinator. As a native of Arizona, Kassandra loves hiking, cacti, and discussing the merits of dry weather. She also loves tea, cold brew, and Venezuelan arepas. She is very excited to be a Siilimander. 
Handsome Dan XIX, also known as Kingman
, is our newest Yale mascot. Kingman is named after the late Yale president Kingman Brewster. He loves meeting new people, playing with his best friend Heidi, and eating peanut butter. Kingman would love if you joined him during playtime in the Silliman courtyard. His favorite games are hide and seek and tag. He is very excited to be surrounded by Yale students and get all the pets and cuddles he was promised when he signed on to be Handsome Dan XIX.