Resident Fellows
Maytal Saltiel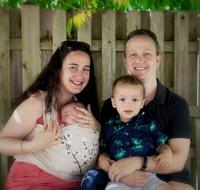 Maytal Saltiel has been an Associate Chaplain in the Chaplain's Office since 2013. Her work is primarily focused around interreligious dialogue, pastoral care, working with smaller religious groups, helping students develop their own faith and sense of meaning, and helping everyone breathe a little deeper.  She works with the InterFaith Forum at Yale (IFFY), Chaplain's Office Peer Liaisons, Chaplaincy Fellows,  Feasting on Faith, Study Breaks and weekly book groups. Prior to coming to Yale, Maytal worked as the Repair the World Coordinator at Penn Hillel, connecting students to service opportunities, encouraging conversations around social justice issues and teaching on the Jewish responsibility of service. She earned her MDiv degree from Harvard Divinity School and BA from Johns Hopkins University in International Relations. She has also worked as the programming coordinator at the Interfaith Center at Johns Hopkins University and a 4th grade Special Education teacher. She's excited to join the Silliman community with her husband, Dan, and children Ari and Lena.
Dan Shetler is a data scientist working at the Connecticut Mental Health Center (CMHC) with a personal mission to help organizations harness the power of data through statistical analysis, data visualization, and machine learning. He likes to approach data (and life) through play and brings a sense of joy and creativity to his work. His master's degree from the University of Pittsburgh's Graduate School of Public and International Affairs focused on methods for monitoring and evaluating nonprofit organizations. He currently serves as the vice president on the board of FISH of Greater New Haven. He's enjoyed keeping up the Silliman garden with Ari and Lena.
Kassandra Haro
Kassandra Haro
is the Program Administrator and caretaker of Handsome Dan XIX, also known as Kingman.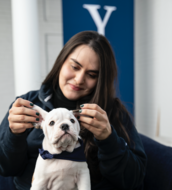 She graduated from Yale's Berkeley College in 2018 with a degree in Political Science. As an undergrad she was a campus tour guide, an admissions office senior presenter, an NROTC midshipman, and worked at the Yale Interdisciplinary Center for Bioethics. She has worked at the Yale Visitor Center in a professional capacity since 2018 as the center's tour coordinator. As a native of Arizona, Kassandra loves hiking, cacti, and discussing the merits of dry weather. She also loves tea, cold brew, and Venezuelan arepas. She is very excited to be a Siilimander. 
Handsome Dan XIX, also known as Kingman
, is our newest Yale mascot. Kingman is named after the late Yale president Kingman Brewster. He loves meeting new people, playing with his best friend Heidi, and eating peanut butter. Kingman would love if you joined him during playtime in the Silliman courtyard. His favorite games are hide and seek and tag. He is very excited to be surrounded by Yale students and get all the pets and cuddles he was promised when he signed on to be Handsome Dan XIX.