Resident Fellows
Natalia Cordova Sanchez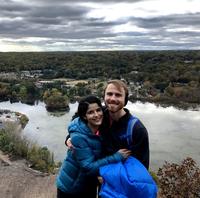 Natalia Córdova Sanchez is a lecturer in the Psychology Department, where she teaches Cognitive Science classes (you might remember her from Intro CogSci in the Fall!) and advises CogSci majors as they work on their senior theses. Natalia is passionate about teaching and loves to think about how Cognitive Science can be put into practice to improve learning in the classroom. She's originally from Puerto Rico, where she earned a BS in math at the University of Puerto Rico. She then moved to Princeton, NJ where she did a PhD in Cognitive Neuroscience (with a brief stint in Colorado in between). Outside of work, Natalia loves hiking, rock climbing, listening to podcasts, and teaching group fitness classes. Also on her list of favorites is to chat and get to know people, so don't be shy when you see her around!
Henry Mattingly is a postdoctoral fellow in Thierry Emonet's lab, studying how bacteria sense and navigate their environments. He earned a BS in Chemical Engineering at Brown, then did a PhD at Princeton, also in Chem E. Outside of the lab, Henry enjoys rock climbing, making puzzles, playing video games, and traveling. He grew up in Chicago, and yes, he loves deep dish pizza.
Maytal Saltiel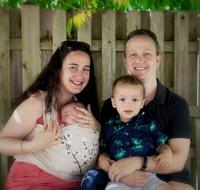 Maytal Saltiel has been an Associate Chaplain in the Chaplain's Office since 2013. Her work is primarily focused around interreligious dialogue, pastoral care, working with smaller religious groups, helping students develop their own faith and sense of meaning, and helping everyone breathe a little deeper.  She works with the InterFaith Forum at Yale (IFFY), Chaplain's Office Peer Liaisons, Chaplaincy Fellows,  Feasting on Faith, Study Breaks and weekly book groups. Prior to coming to Yale, Maytal worked as the Repair the World Coordinator at Penn Hillel, connecting students to service opportunities, encouraging conversations around social justice issues and teaching on the Jewish responsibility of service. She earned her MDiv degree from Harvard Divinity School and BA from Johns Hopkins University in International Relations. She has also worked as the programming coordinator at the Interfaith Center at Johns Hopkins University and a 4th grade Special Education teacher. She's excited to join the Silliman community with her husband, Dan, and children Ari and Lena.
Dan Shetler is a data scientist working at the Connecticut Mental Health Center (CMHC) with a personal mission to help organizations harness the power of data through statistical analysis, data visualization, and machine learning. He likes to approach data (and life) through play and brings a sense of joy and creativity to his work. His master's degree from the University of Pittsburgh's Graduate School of Public and International Affairs focused on methods for monitoring and evaluating nonprofit organizations. He currently serves as the vice president on the board of FISH of Greater New Haven. He's enjoyed keeping up the Silliman garden with Ari and Lena.