Student Kitchen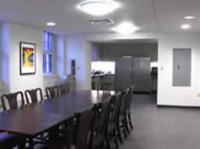 FALL 2021 NOTE:  CURRENTLY, THE STUDENT KITCHEN IS CLOSED DUE TO COVID RULES.  WE HOPE TO REOPEN SOON.
Have you had the urge to try a new recipe? Do you want to impress your friends with your cooking? Or, just whip up a batch of cookies? Silliman hosts one of the nicest student kitchens located next door to the laundry room. The student kitchen has all of the appliances, cooking staples and serving dishes that you would find in your own home.
Student Kitchen
 Policies & Information
· The student kitchen is for the Silliman community.  Silliman students are the only students who can reserve the student kitchen.
· NO alcoholic beverages in the student kitchen.
· Classes and organizations are not allowed to use the student kitchen.
· If your cooking event is for more than six people, bring your own ingredients.
· Return all food items, tightly sealed, where you found them.
· You must remove leftover food using your own containers.
· Do NOT remove any cookware, dishware, glassware, or silverware from the kitchen.
WASH, DRY and STOW away all dishes before you leave.
· Wipe down counters and cooking surfaces, including the sink, the stovetop, and the table.
· Sweep the floor.
· Be sure all electrical appliances are turned off.
· Be sure the windows are closed.
· Please leave the student kitchen cleaner than you found it.
· Be sure the door is locked when you leave.
· Failure to respect the student kitchen policies can result in loss of your student kitchen privileges for the academic year.
How to Make a Reservation
To use the student kitchen you need to contact the student kitchen coordinators to reserve a date and time, based on the availability of the kitchen as seen on the calendar below. They can be reached at: sillikitchen@gmail.com.  Please note that you should use the email address for all reservations and refrain from calling the Coordinators to set up reservations.